Lake Tahoe Flume Trail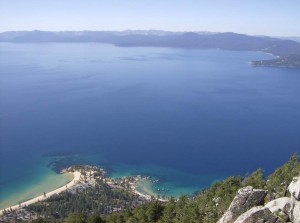 Lake Tahoe has got to be one of the most beautiful places on earth and I appreciate each time I have the opportunity to visit.  This week I was fortunate enough to spend three days mountain biking some of Tahoe's best mountain bike trails with my good friends Tim, Kevin and Grant.  The first two days were warm up days–day one 3 1/2 hours, day two 4 1/2 hours.  By day three we were acclimated to the higher elevations and ready to tackle one of Tahoe's most famous trails, rated one of the nations top ten bike trails, The Flume Trail. 
The Flume Trail sits on the side of a granite face and has some of the most spectacular views of Lake Tahoe.  Originally built for a flume that would carry logs from the higher elevations down the mountain to the lower elevations, today it serves much the same purpose except instead of carrying logs downhill it now carries hikers and bikers. 
Shown below are some of the shots from our 5 1/2 hour ride on the Flume Trail.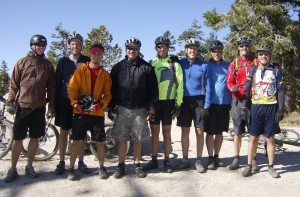 We would begin our ride with Ten Riders.  Four would fall.  One would not finish as a result of his fall (Note: Never try to slow your fall by landing on your head).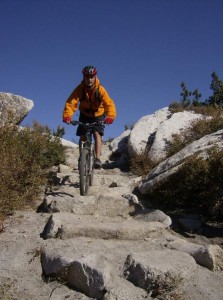 One of  my new riding buddies Jeremy showed us how to ride down the Stairs.
My friend and Neighbor Kevin showed us how to ride up the another set of Stairs.  I can tell you it is a lot harder than it looks.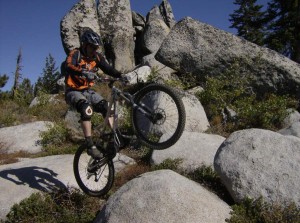 We ran into this rider on the trail and dubbed him Jumping John.  By the time this shot was taken John had hopped his bike like a pogo stick from one rock to another hitting almost every rock you see in this photo.  It was really something to see.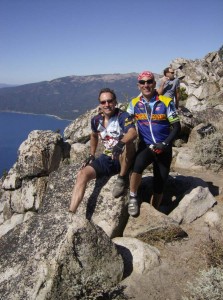 Joe (on the left) was our trail guide for all three days of riding.  Not only is he a great guy but he's also a very strong rider, usually leading the pack up and down the trail. 
We ran into his buddy Mark (on the Right) halfway through our ride.  In Marks spare time he patrols the local bike trails, much like I do on the ski slopes, and helps injured riders.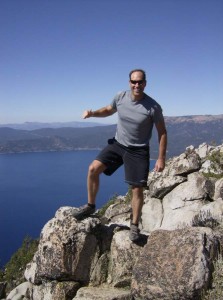 Here is a shot of my good friend and neighbor Tim.  Tim was the trip's organizer and usually set the course for the day.  After the second day of riding we learned to double all of Tim's estimated riding times.  Two hour rides became four hour rides, three hour rides became six hour rides.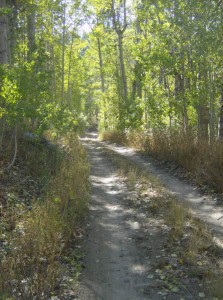 About two thirds of the way into our ride, we entered into a beautiful Aspen forest that surrounded Marlette Lake–a clear pristine lake just east of Lake Tahoe.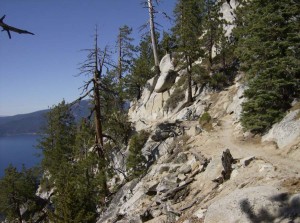 Some of the first views we had of The Flume Trail were absolutely spectacular.  The only drawback was that you did not dare look at the view for too long.  As the photo shows, riding off trail can be very hazardous to your health.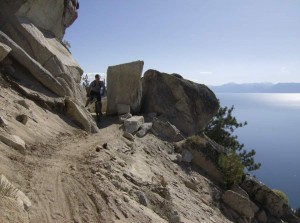 Here's a great shot of one of my OC buddies Grant riding the Flume trail.  The opening between the rocks is just wide enough for your handlebars to pass through.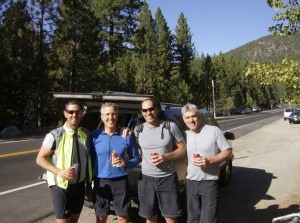 After three days of hard riding there is nothing better than sharing a cold beer with your buds.  Here is the group of four that took the journey from the OC to Tahoe, Kevin, Marshall, Tim and Grant.  Thanks to everyone we rode with that made this a fun and memorable trip.  Special thanks to Joe for acting as tour guide extrordinaire and for remembering to bring the beers you see in this photo.