When a credit downgrade is good
<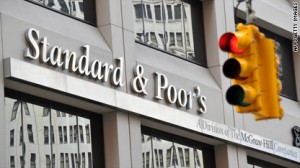 CNN reporter Colleen McEdwards recently posted a phenomenal article about her experience with downgrades of soverign debt. I have provided an excerpt from her article below but I encourage you to read the full article by clicking the photo to the right.
From CNN Business blog, by Colleen McEdwards
Without doubt, Standard & Poor's downgrade of the long-term sovereign U.S. debt rating is serious and sad – $2 trillion worth of equities has disappeared in the past two weeks – but nothing here is permanent. In fact, on the first trading day since the downgrade, the U.S. did not suffer higher borrowing costs like everyone said they would. On this crazy Monday, the 10-year note actually went up in value. Treasuries appeared to still provide a perceived safe-haven.
Canada lost its top-of-the line credit rating in April, 1993 when this reporter and others scrambled to make sense of the Canadian Bond Rating Service downgrading the Canadian government's debt rating to AA+, from Triple-A. At the time, the country had run up enormous deficits. I recall reporting that the debt-to-GDP ratio had topped 70%, and a quick fact check reveals the ratio was pegged at 72% in 1993.
Back then, it felt like the sky was falling. But by 2002, tough austerity measures helped Canada win back its Triple-A status. It was not easy. It took almost a decade of political cooperation and economic seriousness which included tax hikes and deep spending cuts. A robust economy just a few years later also helped Canadian stocks roar ahead, shrugging off the downgrade and surging forward.