What To Do After Drop in Equity Markets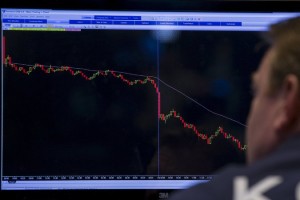 This week we saw a significant drop in the U.S. and Global equity markets.  To those of you that I have spoken to recently, this should come as no surprise.  Earnings for U.S. companies have been declining, quarter over quarter for more than a year and in spite of this, stock prices had been increasing, causing Price Earnings ratios to grow to unsustainable levels.  Prior to this week's pullback, P/E ratios were approaching 19 times earnings.  Today, we are closer to 17.5–still above the 5 year average of 16 but well off the peaks, which I view as a healthy outcome.
But this story is not just about earnings.  There is more at play here.  Energy prices also factor into the equation.  Over the last two years, we have seen the price of oil drop from over $100/barrel to less than $40/barrel today.  This is due to a drop in demand (as our cars and trucks become more fuel efficient) and an increase in supply as the US uses technology (Fracking) to squeeze more oil out of fields previously thought to be fallow.  For the global economy that we live in, this is certainly bad for oil producing and oil servicing companies, as seen in the declining share prices of Exxon/Mobil and Chevron/Texaco.  Furthermore, when these companies share prices drop, it can have a disproportionate effect on stock indices that are  capitalization-weighted (as most are), since the oil companies tend to be some of the largest companies on most indices.
With that said, even though declining oil prices may be bad for Oil and Oil services companies, most economist view these drops as a very positive outcome for global economies.  Since lower oil prices affect so many things, from transportation costs to manufacturing, in the long run they are usually very stimulative to the global economy.
Beyond corporate earnings, many other economic factors are still reflecting a very strong economy, including low interest rates, new home construction, resale prices for existing home, lower unemployment and increased wages, to name a few.
Bottom line, I felt like a correction was in order, but I do not believe the wheels have fallen off the economic cart.  I still see opportunity for more growth in the US economy and so for the time being, staying the course seems to be the most prudent thing to do.
As always, should you wish to discuss your individual accounts in more detail, please do not hesitate to call.  I can be reached at 949-756-2226.
Marshall Eichenauer, Jr.
ps. For more on this topic, please see the links below;
Stock Selloff Looks Overdone-Bloomberg-Businessweek
China Fears Hands Wall Street It's Worst Day Since 2011-Reuters
Why Stocks Are Tumbling-US News and World Report
Advice After Stock Market Drops-Take Some Deep Breaths and Don't Do A Thing-NY Times