U.S Hiring Slows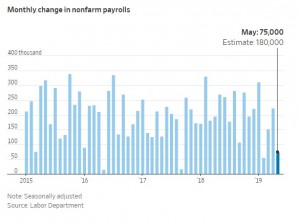 On Friday the Labor Department reported that the U.S. economy added 75,000 Jobs in May, one of the weakest monthly increases since the recession ended in mid-2009.
As reported by the Wall Street Journal, "The employment figures add to other data depicting an economy that is still growing, but is losing momentum after the first quarter of 2019 and last year. "
Although many suggest that this and other economic data lends credence to the theory that the Federal Reserve will be forced to lower the Fed Funds rate later this year, the bigger question is if the Feds were to take such action would it stave off a recession?  Something I am somewhat skeptical of.
Interested in more on this subject and how it may affect your investment portfolio.  Contact us HERE.