Housing Builds Momentum Amid Earnings Gloom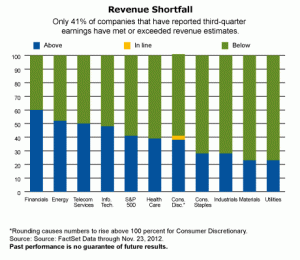 Housing, once the bane of the U.S. economy, is now a bright spot.  Home sales and prices are up while inventory is down to a 5.4 month supply – the lowest since February 2006.  Year-over-year sales have increased for eight consecutive months and previously owned homes listed for sale are at the lowest level since December 2002.
However, corporate profits are moving in the opposite direction.  The blended earnings growth rate for Q3 is currently -0.9% and only 41% of those companies met or exceeded revenue expectations.  The Euro Zone crisis is still having a deep impact on large multinationals.
Despite weakened earnings, the stock market crosed some key psychological thresholds last week with the Dow finishing above 13,000 and the S&P 500 over 1400 .  Perhaps there is some comfort in continuity, advancing the idea that the market tends to respond well when there is less uncertainty – even if the news isn't all that great.
To read the full article on this topic please CLICK HERE.