Fed Chairman Offers Uncertain Outlook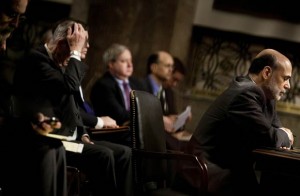 The Los Angeles Times reported today that Federal Reserve Chairman Ben S. Bernanke predicted that unemployment was likely to remain stubbornly high for several years, straining families and endangering the nation's economic stablitiy and competitiveness.
Though Bernanke painted a bleak picture for the millions of jobless workers, he said the U. S. economy was continuing to recover at a moderate pace.
 Click the photo to view the entire article.