Fed Begins Tightening Process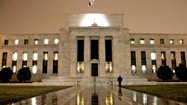 On Thursday the Federal Reserve took it's first step toward withdrawing some of the stimulus rolled out during the recession by increasing the so-called discount rate from 0.5% to 0.75%.
The discount rate is the rate banks pay when borrowing funds directly from the Federal Reserve.
To view the entire story from the February 19th, 2010 issue of the Los Angeles Times, please click the photo to the left.