2013: The Beginning of the End of the Great Financial Crisis?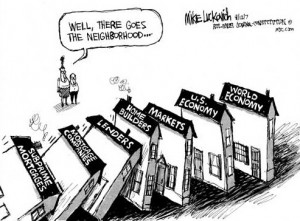 Although risks remain and volatility will continue, Andreas Utermann (global CIO from Allianz) is more positive about the world in 2013 than at any point since 2007.  US growth could surprise on the upside and markets could see the beginning of the end of the great financial crisis.  The key takeways from Utermann's article on 2013 include:
 1.  China's robust growth should continue and a turnaround in the US   housing market could lead to an upside surprise.
2.  Global central banks will continue their ultra-loose monetary policies until economic growth is firmly established.
3.  With nominal bond yields at record-low levels, we do not expect  their return to match inflation over the next 10 years.
4.  We expect equities to continue to outperform bonds.  Although there will be continued volatility, any significant weakness should be used to establish longer-term positions.
5.  Emerging-market assets should continue performing well.
2013 could very well be the year when growth in the US surprises on the upside and markets begin to anticipate the beginning of the end of the great financial crisis.  I encourage you to read the full article on Utermann's feelings toward 2013.  Please CLICK HERE.